EMIX @ DEJAVU' - Saponara,Villafranca (Messina) 19.08.2011 (evento a Laguna Blu Cancellato!!!)
27 Jul 2011 09:52
-
09 Aug 2011 00:23
#1
by strobe
strobe created the topic: EMIX @ DEJAVU' - Saponara,Villafranca (Messina) 19.08.2011 (evento a Laguna Blu Cancellato!!!)
EMIX @ DEJAVU' - Saponara,Villafranca (Messina) 19.08.2011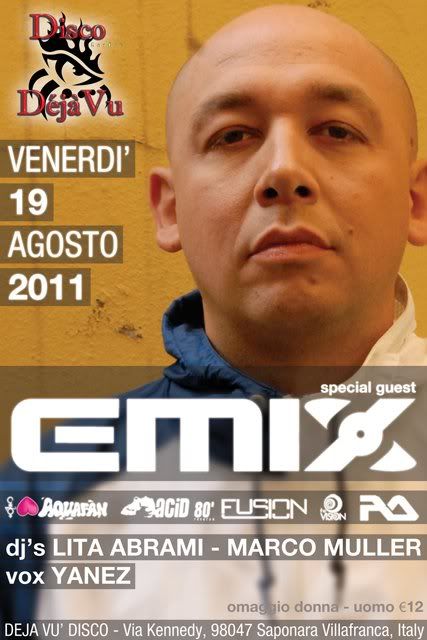 Special guest star from Cocorico love Aquafan: EMIX
Emiliano Mosci - meglio conosciuto come EMIX, nasce dj techno nel settembre del 1989, le sua carriera inizia con i Rave e gli After Hours. L'amore per la musica anni 80' e la ricerca continua di nuove sonorita' saranno determinanti nel trasformarlo in breve tempo in "collezionista" di vinili rari. Dal 92 al 95 si afferma a livello nazionale con party acid/techno. Dopo il famoso "Insomnia The Dream" 24h no stop del 31/12/95 (Anzio/Italy), lavorera' come dj/resident nei piu' importanti club italiani: Cocorico', Palladium, Hollywood, Red Zone, Arabesk, Piper, Alien, nel party trasgressivo Muccassassina (c/o Qube - Rome/Italy) e al Diabolika (c/o Nrg - Rome/Italy). All'estero nel 2007 e' dj/resident allo Space (Ibiza/Spain).
Anche in europa e nel mondo si esibisce in party/clubs prestigiosi: Space (Valencia/Spain), Goliath (c/o Hallenstadion - Zurich/Swiss), Duplex (Prague/Cesko), Lipgloss (San Diego/Ca. USA), Street Parade (Zurich/Swiss), Energy (c/o Hallenstadion - Zurich/Swiss), Pacha (Palma De Mallorca/Spain), Pacha ( Barcelona/Spain), Liquid (c/o Le Sal - Barcelona/Spain), Menagerie (Miami Beach/ Fl. USA), Tropics (Barcelona/Spain), PP Club (Hong Kong/China), Private Party (Las Vegas/Ne USA), Zapata (Stuttgard/Germany), The End (London/UK) e tanti altri... La sua discografia riscuote subito successo, grazie all'incontro nel 1992 del suo amico e collega D.Lewis, con cui divide gran parte dei lavori discografici (
www.locomotorestudio.it
).
Collabora con molte etichette tra cui: Bosphorus, Audio Elite, Flat Belly, Universal Sound, Sony, Evidence, Exp, Gas, Molto, Start, Status, Mr Disc, Paprika, I'm, Algoritmic, Eclipse, Circus, Fulltime, Sound Real, Spectra, Python, Stereoseven, Nib, Dbx & Clubbin', grazie a quest'ultima si impone nel panorama Italiano e Internazionale, realizzano la cover di Electrica Salsa degli Off (con vocal di Sven Väth), licenziata sulla DeeJay Parade 2004 e il remix di Exogroove feat.ing Tony Bruno. Con il brano Scariche su etichetta ACID 80', attira maggiormente l'attenzione del grande pubblico. Collabora con una della piu importanti radio-network d'italia: M2o.
Nel 2006 pubblica Officine Romane il suo primo album, accompagnato dal video di Baby, il primo singolo estratto. Nel 2008 diventa Socio Onorario dell'ANPAD (Associazione Nazionale Produttori Autori Disc Jokey -
www.anpad.it
). Nel 2009 vince il Dj Awards come migliore dj italiano e crea insieme a D.Lewis il progetto Reazione (
www.reazione.co.uk
), il loro live efx show, dove suonano in "back to back" per tutta la notte. In tour Europeo con sponsor: Reloop, Vestax, Native Instruments & Otus. Nel 2010 collabora con The Vision Agency (
www.thevision.biz
) e Strobe (
www.strobe.es
).
Sempre nel 2010, grazie a Fedde Le Grand, Funkadelic remixa Lunchbox, un suo progetto targato Acid 80, che arriva ai vertici delle classifiche in pochissimo tempo. Cura per Antibemusic, la direzione artistica delle famose compilation un-mixed: Huose Family, Electro Family ,Tech House for dj e delle labels Acid 80', Zig Zag e Abm. Il suo percorso musicale e' sempre in continua evoluzione, pur mantenedo il solito stile, come dimostrano i vari progetti: Go, Angelina, Auratone, Oceania, Next Corner e Sphinx dove si lascia andare a sonorita' Techno/Tech House. Attualmente e' resident al "Cocorico love Aquafan" (Riccione/Italy) summer 2011.
Voice: YANEZ
Dejavu' Disco
Via Kennedy, 98047 Saponara Villafranca, Italy
Last Edit: 09 Aug 2011 00:23 by
strobe
.
Please Log in or Create an account to join the conversation.
Please. Leave a Vote at this Topic.
Time to create page: 0.084 seconds