KAISERDISCO, EMIX @ BRANCALEONE (RM) Friday 10.02.2012
07 Feb 2012 18:29
#1
by strobe
strobe created the topic: KAISERDISCO, EMIX @ BRANCALEONE (RM) Friday 10.02.2012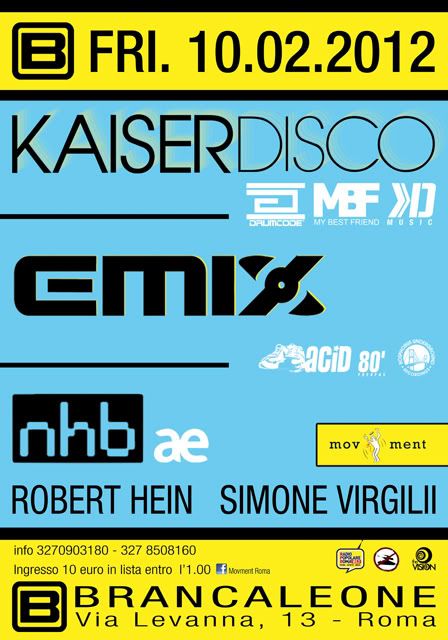 official teaser click here
Line-up /
Kaiserdisco, Emix, Nhb, Robert Hein, Simone Virgilii
Guest star from - Traum - Trapez -Mbf
::: Kaiserdisco biography :::
Both Frederic Berger and Patrick Buck are true boys from Hamburg. They are in their mid 30´s and have had single
careers of their own for more than 10 years, but when they joined forces things began to simmer.
They have so much in common that you could think they were twins in mind. Both started to play musical instruments
at school and also started their DJ careers then. As they grew up Patrick started to study and Frederic started an
apprenticeship. Patrick quite his studies and once Frederic had completed his hotelier apprenticeship both became
professional musicians.
After several years pursuing their musical careers they meet up and discovered that they had a great deal in conmen
and then started to work together.
Kaiserdisco signed to MBF two years ago and have since then accumulated half a dozen top chart positions on
Beatport and international fame.
What started as fun in 2008 with a remix for Phunklarique (one half of Piemont) and Pierce, got hugely successful and
won an award as one of "Beatport's minimal top 10 selling tracks in 2008".
Their "Pipe!" EP (MBF 12052) was a raw and psychedelic EP to start off with which earned shouts from DJs such as
Format:B, Len Faki, Technasia, Joseph Capriati etc.
With their Zapateria EP (MBF 12055), they created their first summer hit and title song, the a-side "Espandrillo" got
very high in the Beatport charts as well as selling very good through Kompakt distribution as vinyl.
Meanwhile also remixers such as Uto Karem and Hermanez had spread the fame, when the 3rd EP "Amalfino" hit the
shops and evolved as the biggest hit they had so far.
Climbing up to no3 in the Beatport sale charts and staying in the charts for over 3 months, "Amalfino" was hitting the
bulls-eye in every respect.
Richie Hawtin, Laurent Garnier, Stephan Bodzin, Dubfire, Tiefschwarz were among the many to celebrate the track in
their sets and to boost the popularity of Kaiserdisco.
Since then Kaiserdisco have been gigging in clubs and festivals around the world.
Releases on Terminal M and Drumcode, Kling Klong and Micro.fon showed that their potential was huge.
Remixes for Booka Shade, Umek and Swedish pop singer Robyn are cooking.
After five 12"s on MBF they decided it was the time for the next step in their career.
With an album release Kaiserdisco would be able to really show their whole range of music.
The album "In no one's Shadow" (MBF CD004) will feature 10 brand new exclusive and unreleased trax, as well as
their chart breakers "Aguja" and "Carachillo" and will be accompanied by a video and an album tour.
::: EMIX :::
Emiliano Mosci - also known as Emix, born techno dj in September 1989, began his career with the Rave, and After Hours. The love for the music of the 80's and the constant search for new sounds will be crucial in turning it into a short time in collections of rare vinyl. From 92 to 95 he affirms himself nationally with party acid / techno. After the famous "Insomnia The Dream" non-stop 24 hours of 31/12/1995 (Anzio / Italy), will work as a DJ / resident in the most important Italian clubs: Cocoricò, Palladium, Hollywood, Red Zone, Arabesk, Piper, Alien in the party offending Muccassassina (c / o Qube - Rome / Italy) and Diabolika (c / o Nrg - Rome / Italy). Abroad in 2007 became dj/resident at Space (Ibiza/Spain).
Even in Europe and the world performing in prestigious clubs/parties: Space (Valencia/Spain), Goliath (c/o Hallenstadion-Zurich/Swiss), Duplex (Prague / Cesko) Lipgloss (San Diego/Ca.USA), Street Parade (Zurich/Swiss), Borderline (Basel/Swiss), Energy (c/o Hallenstadion - Zurich/Swiss), Pacha (Palma De Mallorca/Spain), Pacha (Barcelona/Spain), Liquid (c/o La Sal-Barcelona/Spain), Menagerie (Miami Beach/Fl USA), Tropics (Barcelona/Spain), PP Club (Hong Kong/China), Private Party (Las Vegas/Ne USA), Zapata (Stuttgart/Germany), The End (London/UK) many others. His discography soon met with success, thanks to a meeting in 1992 with his friend and colleague D. Lewis, with whom he shares much of the recorded works (
www.locomotorestudio.it
). He collaborates with many labels including: Flat Belly, Universal Sound, Sony, Evidence, Exp, Gas, Great, Start, Status, Mr. Disc, Paprika, I'm, Algoritmic, Eclipse, Circus, Fulltime, Real Sound, Spectra, Python , Stereoseven, NIB, Dbx & Clubbin, thanks to the last collaboration he imposes himself in the Italian and international scene, delivering the cover of Off Electrica Salsa (with vocals by Sven Väth), dismissed in 2004 on the DeeJay Parade and the remix of Exogroove feat.ing Tony Bruno. With the song SCARICHE download on label ACID 80 ', he attracts the attention of the general public. Collaboration with one of the most important radio network in Italy: m2o. In 2006 Officine Romane publishes his first album, accompanied by video of Baby, the first single. In 2008 he became Honorary Member dell'ANPAD (National Association of Manufacturers Disc Jokey Authors -
www.anpad.it
). In 2009 he won the DJ Awards for Best Italian DJ and creates the project with D. Lewis Reaction (
www.reazione.co.uk
), their live show efx, where they play in back-to-back all night. In European tour with sponsors: Reloop, Vestax, Native Instruments & Otus.
In 2010, collaborate with The Vision Agency (
www.thevision.biz
) and Strobe (
www.strobe.es
). Also in 2010, Fedde Le Grand, work on the remix of the magic track "Lunchbox", a project of his weblog Acid 80, that reaches the top of the charts in a short time. Care for Antibemusic, the artistic director of the famous a-mixed compilation: House Family, Family Electro, Tech House and labels for DJs Acid 80 ', Zig Zag and ABM. His musical road is always evolving, while keeping the usual style, as demonstrated by various projects, Go, Angelina, Next Corner, Oceania & Sphinx sounds where he leave to go Techno/Tech House sonority. Dj resident @ Cocorico Love Aquafan (Riccione/Italy). Currently work in Muvment project @ Brancaleone (Rome/Italy) with regular international guest.
Promoter /
Brancaleone, After-T, reazione staff, The Vision agency (Booking & Promotions)
Brancaleone Club - Via Levanna 13 - Roma
info MOVMENT 3270903180 - 3278508160
The following user(s) said Thank You:
Trony
Please Log in or Create an account to join the conversation.
Please. Leave a Vote at this Topic.
Time to create page: 0.101 seconds