05 Feb 2016 | London | RENEGADE HARDWARE THE FINAL CHAPTER
14 Dec 2015 20:17
#1
by Trony
Trony created the topic: 05 Feb 2016 | London | RENEGADE HARDWARE THE FINAL CHAPTER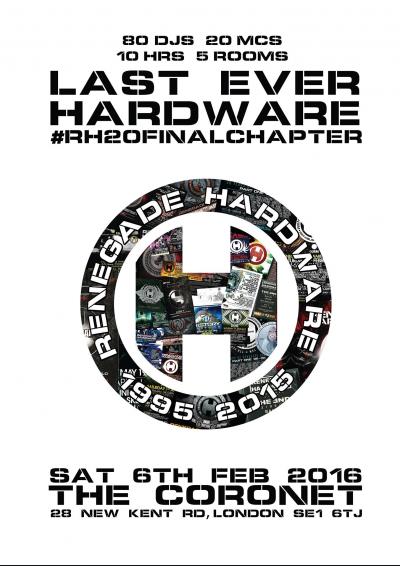 Fri 5th Feb 2016, 21:00 – Sun 7th Feb 2016, 07:00
The Coronet Theatre London, 28 New Kent Rd, London , LONDON, London SE1 6TJ
RENEGADE HARDWARE PRESENTS THE FINAL CHAPTER
THE LAST EVER HARDWARE 80 DJ'S - 20 MC'S - 5 ROOMS
#RH20FINALCHAPTER
Calling all global fans of the Renegade Hardware sound.
Due to the overwhelming response to the final Renegade Hardware event we have been forced to add an additional date. We have worked closely with the venue and pulled out all the stops to secure this night and make it available due to the demand for Saturday's grand finale. This has now become the Renegade Hardware weekender!
Saturday 6th Feb will transport you back two decades where the years 1995-2005 defined the golden era of Hardware's well respected residency at the mighty END club where the Hardware sound was developed and shaped in the dark & sweaty caverns deep underground in the heart of central London.
Friday 5th February will take you on another journey and another decade of Renegade Hardware history from 2005-2015. If you were a part of the Hardware movement that partied all night at Cable, Area, Ministry of Sound and Electric, then this is the night for you to get your full on tech assault and battery with the next generation of Hardware artists that evolved out of the shadows and into the light.
A small number of limited weekend passes have been made available for those of you who have supported the label for the past two decades and would like to represent one last time on the dance floor over both of these epic nights that will never be repeated again.
For those of you that have already purchased tickets for Saturday night we will be doing 500 half price tickets for Friday night on a first come first served basis so you can enjoy two whole nights of Hardware history.
This will be the DnB event of 2016 as well as the end of a chapter and end of a dynasty. The final call for the Renegade Hardware crew you don't want to miss this one.
This is an event not to be missed so we have given you plenty of time to arrange your flights, trains, coaches and hotels for this final event in DnB history.
The full line up will be announced shortly without question have no fear we will be bringing to you two decades of Renegade Hardware artists performing across five rooms bringing you the beats and producers that educated a generation of drum and bass fans across the globe. Hardware has long been integral to the careers of household drum & bass names like Chase & Status, Pendulum and Friction.
Renegade has been instrumental in nurturing the careers of people like Future Forces, Loxy & Ink, Noisia and Spor..
So keep your eyes and ears to the street for more information on the very last Hardware event ever.
Limited Weekender (Joint Friday & Saturday) passes £50
Friday only Tickets £30
Limited Friday ticket if you hold a Saturday ticket £15
- Buy Tickets Here -
Unable to display Google Map.
Music and Electronic Devices Designer. Drum and Bass Addict. Creative Mind as Lifestyle. Cat in past Life. Soccer, Ice Hockey and Snowboard Lover. Marxist.
Sono Il Re sul Carro Danzante. Attraversando La Città Getto Via I Coriandoli Della Vostra Tristezza Regalando Passione Ed Estasi Nei Vostri Occhi.
Follow Trony on: FusoElektronique | Facebook | Twitter | Google+ | Soundcloud
Please Log in or Create an account to join the conversation.
Please. Leave a Vote at this Topic.
Time to create page: 0.095 seconds