Club Edition 189 with Stefano Noferini
13 May 2016 11:42
#1
by DjMaverix
DjMaverix created the topic: Club Edition 189 with Stefano Noferini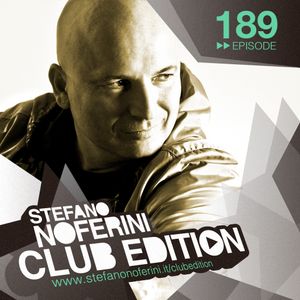 The show is syndicated worldwide by Syndicast (
www.syndicast.co.uk
)
If you are interested in airing the show please register your radio station here:
syndicast.co.uk/distribution/r
...
Tracklist:
01. Raw District - Their Eyes (Original Mix) Moon Harbour Recordings
02. Joe Vanditti & Neshga - The Street (Original Mix) Skullbusted
03. Luciano - Fran Left Home (Tomy Wahl Remix) Promo
04. Alex B (italy) - Fold Up (David Zor Remix) Pressology Publishing
05. Benavid - Broken Link (Original Mix) 4 Quarters Music
06. Stefano Noferini, Danniel Selfmade - Mr. President (Original Mix) Deeperfect Records
07. Pirupa - Space Odissey (Original Mix) Saved Records
08. Butane, Stephanie - It's Time To Jank (Pope's Account Remix) (Pope's Account Remix)
09. Loris Brega - Nikel (Luixar KL Remix) Atum Record
10. N-Telekia - The Night Is Gonna Booming (Original Mix) Triplepoint Publishing
11. Relow - Quantun (Stefano Noferini rmx) Deeperfect Records
Author for FusoElektronique. Dj Resident for We Play The Music We Love. Juventus FC Fan.
Please Log in or Create an account to join the conversation.
Time to create page: 0.085 seconds