Viper Recordings Decade of Viper Album Minimix [#DnB #DrumAndBass #DrumNBass]
15 Dec 2014 23:12
-
15 Dec 2014 23:14
#1
by Trony
Trony created the topic: Viper Recordings Decade of Viper Album Minimix [#DnB #DrumAndBass #DrumNBass]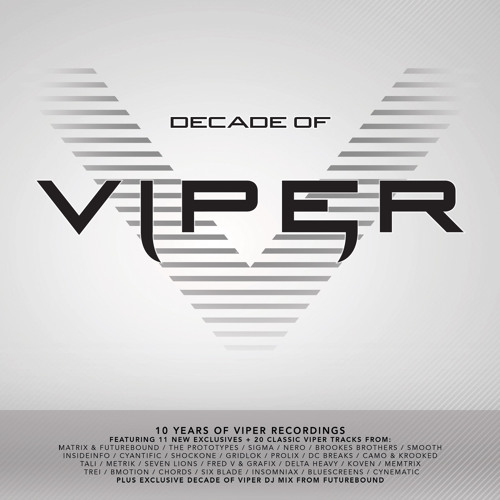 Decade of Viper album minimix by Cynematic. Showcasing the 11 new exclusive tracks from the album. Pre-order now on iTunes:
smarturl.it/decadeviper
Decade of Viper (10 Years of Viper Recordings)
Released: 14th Dec. 2014
Format: 2xCD / Digital / 12" Vinyl Sampler
iTunes Pre-order:
smarturl.it/decadeviper
Full Tracklist & Info:
bit.ly/decadevipernews
MIX TRACKLIST:
The Prototypes - Moscow
Koven & Memtrix - Pessimist
Six Blade & Insomniax - Contact
Futurebound & Gridlok - Go Free
InsideInfo & Prolix - Transposed
InsideInfo & Smooth - Hear Me Roar VIP
Cyantific - Bring You Love
Smooth & Futurebound - Savoy Affair
Tali - Forces (Trei Remix)
BMotion & Chords - Discotheque
Bluescreens & Cynematic - Aurora
Follow Cynematic on SoundCloud: @
cynematic
Music and Electronic Devices Designer. Drum and Bass Addict. Creative Mind as Lifestyle. Cat in past Life. Soccer, Ice Hockey and Snowboard Lover. Marxist.
Sono Il Re sul Carro Danzante. Attraversando La Città Getto Via I Coriandoli Della Vostra Tristezza Regalando Passione Ed Estasi Nei Vostri Occhi.
Follow Trony on: FusoElektronique | Facebook | Twitter | Google+ | Soundcloud
Last Edit: 15 Dec 2014 23:14 by
Trony
.
Please Log in or Create an account to join the conversation.
Time to create page: 0.082 seconds